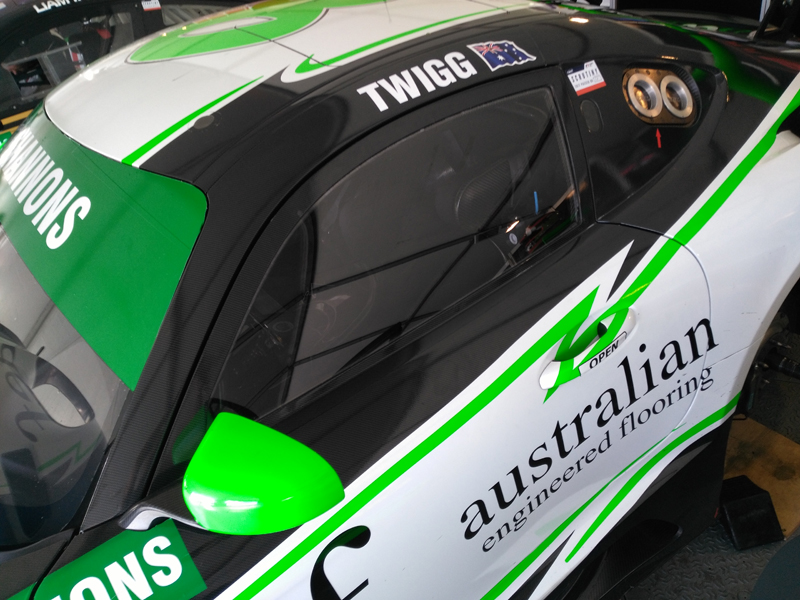 Max Twigg has claimed his second Australian GT Championship pole position, edging out Roger Lago in the JBS Australia Lamborghini by just 0.02 of a second.
The top four were separated by less than two tenths of a second, with three different brands represented on the front two rows of the grid.
For Twigg (Australian Engineered Flooring Mercedes-AMG), it marked his first pole position for Mercedes, and his first since he claimed the top spot at Eastern Creek in 2010.
Geoff Emery (Valvoline Audi R8 LMS) qualified third fastest with Championship points leader Tony Bates four fastest in the Moveitnet Mercedes-AMG GT3.
Bates had an eventful session, ending it in the gravel at turn three after sliding wide.
With less than two minutes remaining in the session, the incident was covered by yellow flags but was enough to stop improving their times.
A race winner in Adelaide at Round 1, Peter Major will start out of fifth for Race 2 in the PM Motorsport Lamborghini R-EX, while Fraser Ross is the leading McLaren in sixth place for Tekno Autosports.
The top ten is rounded out by Liam Talbot (MEGA Racing Porsche 911 GT3-R), James Koundouris (Supabarn Supermarkets Audi R8 LMS), Ash Samadi (Ah Apartments Audi R8 LMS) and Nick Kelly (Industrie Audi R8 LMS).
Race 2 is scheduled for 10:45 tomorrow (March 24) with Race 1 set to get underway this afternoon at 15:40.
QUALIFYING 2 RESULTS
| | | | | | |
| --- | --- | --- | --- | --- | --- |
| Pos | Car | Competitor/Team | Driver | Vehicle | Q2 Time |
| | | | | | |
| 1 | 8 | Australian Engineered Flooring | Max Twigg | Mercedes-AMG GT3 | 1:56.786 |
| 2 | 23 | JBS Australia | Roger Lago/David Russell | Lamborghini R-EX | 1:56.814 |
| 3 | 74 | Valvoline | Geoff Emery/Kelvin van der Linde | Audi R8 LMS | 1:56.983 |
| 4 | 24 | Moveitnet/AFS | Tony Bates | Mercedes-AMG GT3 | 1:56.985 |
| 5 | 14 | PM Motorsport | Peter Major | Lamborghini R-EX | 1:57.548 |
| 6 | 59 | Tekno Autosports | Fraser Ross/Lewis Williamson | McLaren 650S GT3 | 1:57.626 |
| 7 | 911 | MEGA Racing | Liam Talbot | Porsche 911 GT3-R | 1:57.748 |
| 8 | 44 | Supabarn Supermarkets | James Koundouris/Ash Walsh | Audi R8 LMS | 1:58.127 |
| 9 | 3 | Ah Apartments | Ash Samadi | Audi R8 LMS | 1:58.582 |
| 10 | 199 | Industrie Clothing | Nick Kelly | Audi R8 Ultra | 1:58.907 |
| 11 | 222 | Scott Taylor Motorsport | Scott Taylor | Mercedes-AMG GT3 | 1:59.163 |
| 12 | 11 | Objective Racing | Tony Walls | McLaren 650S GT3 | 1:59.239 |
| 13 | 75 | Valvoline | Tim Miles | Audi R8 LMS | 1:59.458 |
| 14 | 48 | Interlloy M Motorsport | Yasser Shahin/Glen Wood | Lamborghini R-EX | 1:59.694 |
| 15 | 29 | Pirelli/Trofeo Motorsport | Ryan Millier/Ivan Capelli | Lamborghini Huracan GT3 | 1:59.992 |
| 16 | 9 | Hallmarc Construction | Marc Cini/Dean Fiore | Audi R8 LMS | 2:00.101 |
| 17 | 7 | Darrell Lea | Tony Quinn | McLaren 650S GT3 | 2:00.186 |
| 18 | 88 | Maranello Motorsport | Peter Edwards | Ferrari 488 GT3 | 2:00.213 |
| 19 | 100 | BMW Team SRM | Steve Richards/James Bergmuller | BMW M6 GT3 | 2:00.248 |
| 20 | 101 | DJS Racing | Danny Stuttered | BMW M6 GT3 | 2:00.809 |
| 21 | 21 | Rosso Verde Racing | Hector Lester/Benny Simonsen | Ferrari 458 GT3 | 2:00.853 |
| 22 | 73 | HHH Triffid Racing | Michael Hovey | Lamborghini R-EX | 2:01.137 |
| 23 | 19 | Hog's Breath Café/Griffith Corporation | Mark Griffith/Jake Camilleri | Mercedes-AMG GT3 | 2:01.578 |
| 24 | 6 | Timken Zagame Motorsport | Adrian Deitz/Cameron McConville | Lamborghini Huracan GT3 | 2:01.692 |
| 25 | 51 | AMAC Motorsport | Andrew Macpherson | Lamborghini Huracan GT3 | 2:02.965 |
| 26 | 99 | Fire Rating Solutions | Mathew Turnbull | Lamborghini Gallardo GT3 | 2:03.470 |
| 27 | 147 | Mack Roofing Products | Wayne Mack | Ferrari 458 GT3 | 2:03.833 |
| 28 | 68 | Shoal/Thomson Geer Lawyers | Michael O'Donnell | Porsche GT3 Cup Car | 2:06.090 |